Maserati Certified Pre-Owned Program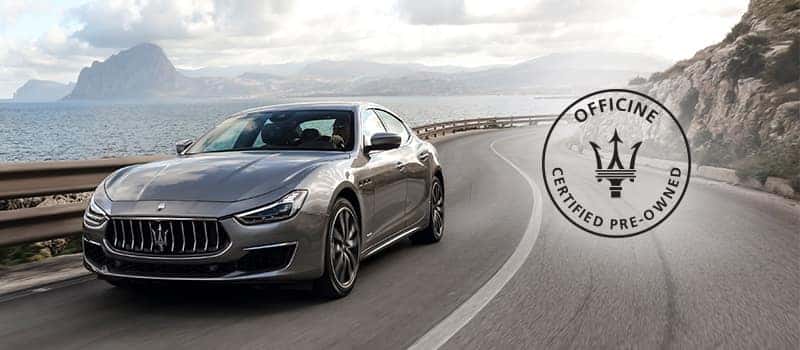 Maserati Approved: Your Certified Pre-Owned Maserati is much more than a used Maserati
Our Maserati Approved program broadens the possibilities, enhancing the value of the used Maserati you choose and ensuring that it delivers on the dream of driving one of the world's most desired cars. A Certified Pre-Owned Maserati is the best used Maserati you can buy.
The Maserati Approved program includes eligible vehicles originally imported by Maserati North America, Inc. and serviced under the factory guidelines. Only Maserati models within their original New Car Warranty period of less than 50,000 miles and four years in service may be enrolled in the program. The Maserati Certified Pre-Owned vehicle comes with a 1 or 2-year/unlimited mileage warranty providing new and certified pre-owned coverage for unlimited miles from the original, new-vehicle in-service date.
Every Certified Pre-Owned Maserati passes an exhaustive test regimen inspecting conditions of the following:
engine/powertrain performance and smoothness
dynamic and static road tests
paint quality
exterior body
exterior glass
interior/upholstery
chassis/suspension
brakes/tires
electrical system
scheduled maintenance
airbag and safety equipment
history report
Traditional Two Year Certified Pre-Owned Warranty
The Two Year CPO Warranty provides an additional 2 years or unlimited miles to the balance of the existing New Car Limited Warranty coverage, for a total of 6 years of unlimited miles. Engine, transmission, Differential and Driveshaft, Suspension, Stearing, ABS, Cooling and Fuel System, Electrical Components, and Climate Control System are all covered in this program.
One Year Certified Pre-Owned Factory Warranty
The One Year CPO Factory Warranty is an alternative to the Two Year CPO Warranty and offers the same coverage, however offers up to 5 years of unlimited miles.