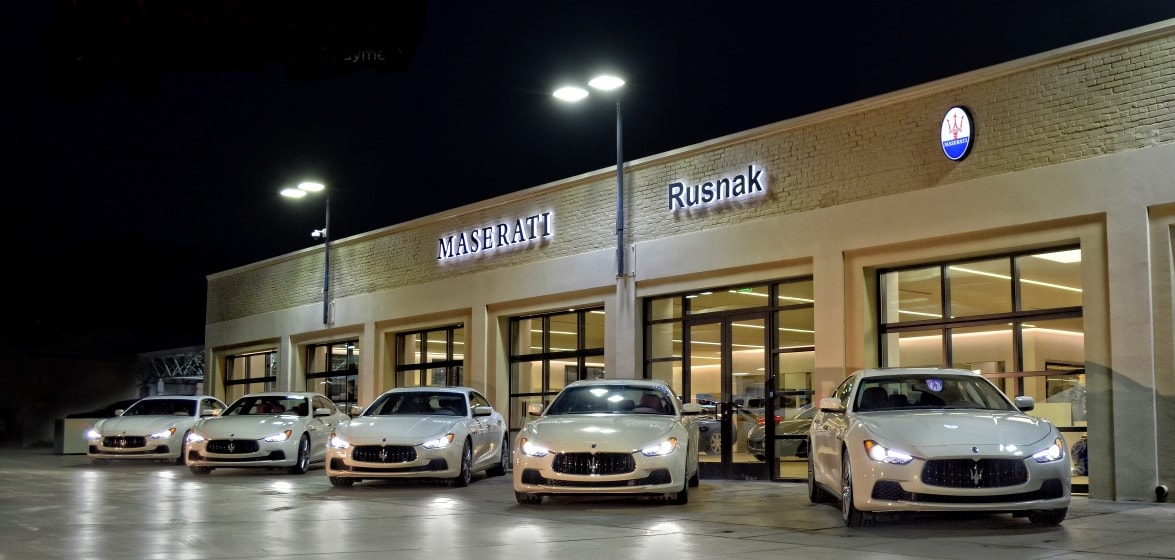 Rusnak Maserati is Your Destination for all things Maserati in the Los Angeles, CA Area

---
When you're in the market for a new luxury automobile, there are several qualities you are sure to want to have met. Extravagant style, great performance, and an utterly sumptuous interior all take front and center in the minds of Los Angeles area drivers when envisioning the high-end car of their dreams. But a smooth car-buying process liaised by a team of knowledgeable automotive experts is also of the utmost importance, and that's where our team here at Rusnak Maserati of Pasadena truly shines.
For years, the Maserati model lineup has been renowned in the automotive world for making every inch, every stitch of their vehicles look and feel truly special. Here at our new and used luxury car dealership, we take it upon ourselves to make you feel just as special from the moment you enter the doors of our showroom. Whether you're in the market for a new Maserati car in Los Angeles such as the ever-popular Maserati Ghibli, Quattroporte, or GranTurismo, or if you've come to us to explore quality used luxury cars for sale in Pasadena, you'll be treated with the utmost respect and professionalism from start to finish. We hold ourselves to the highest standard of excellence, because we know our Los Angeles area customers expect just as much of us as the area's premier new and used Maserati dealership.
Yelp Reviews From Our Satisfied Los Angeles Customers
---


We are passionately dedicated not only to getting you behind the wheel of the most exquisite luxury car, but to ensuring that every mile of ownership feels just as exhilarating and enticing as the day you first drove off our lot. The ownership experience begins in our onsite auto finance center, which is staffed with friendly and knowledgeable professionals who are expertly trained to make your dreams of driving home in your new high-end automobile a reality. The lasting relationship we seek to establish sustains even months down the road, when you'll likely return to our Rusnak Maserati car service center--a further extension of our commitment to a comprehensive and expectation-shattering ownership experience.
There are a lot of reasons Rusnak Maserati of Pasadena is a cut above the competition in the Los Angeles area. For some, they're drawn to our larger showroom and the convenience of our location. Or, maybe it's the fact that we store the majority of our vehicles inside, unlike many of our competitors who subject their vehicles to sun and water damage. Or perhaps, it's our Maserati custom order program--Personalizzazione Maserati--that allows you to pick out the paint and leather combo that's perfectly crafted to your personal liking. Whatever the initial reason behind drivers choosing our dealership, once they're here they soon discover the true root of our competitive edge: our firm dedication to earning our customers' loyalty.  Use our interactive map to the right to visit us from Los Angeles today!