How Often to Change Synthetic Oil for Your Maserati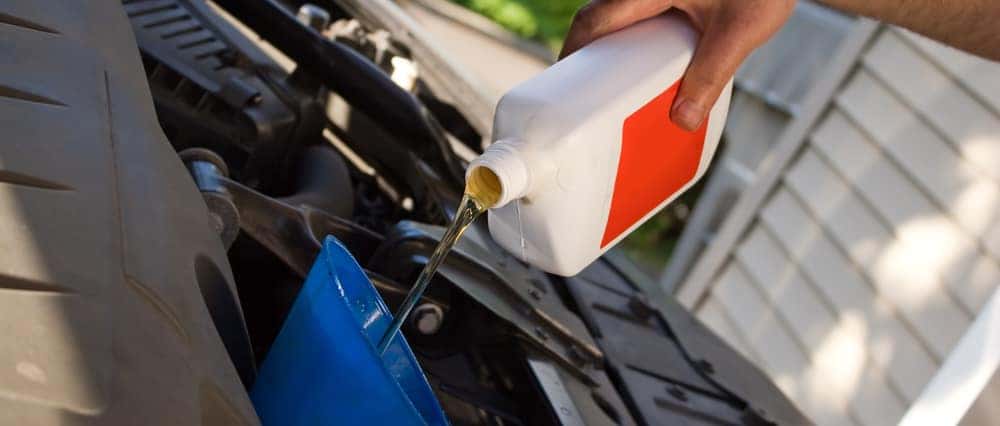 ---
---
When you invest in a new Maserati luxury high-performance vehicle, you want to ensure it delivers peak performance levels for many years to come in Los Angeles. Need to know how often to change synthetic oil for your Maserati? Most Maserati vehicles only require a synthetic oil change once per year or every 10,000 to 15,000 miles. Learn more about Maserati oil service with the expert service team at Rusnak Maserati of Pasadena, below.
Synthetic vs. Conventional Oil: What's the Difference?
Only synthetic oil can be used for your Maserati vehicle. When compared to conventional motor oil, synthetic oil is more expensive. Of course, this is not without reason. Synthetic oil is more refined than conventional oil, helping it to last longer and provide heightened performance levels.
Benefits of Synthetic Oil in Your Maserati
Maserati vehicles are known for generating blistering engine performance on Pasadena-area freeways, and synthetic oil is the only type of oil that can help maintain that performance. Just a couple of benefits provided by synthetic oil include general engine wear protection and cleaner pistons. Other benefits include:
Longer Oil Change Interval – Many Glendale drivers will find that the higher cost of synthetic oil is offset by the fact that the oil only needs to be changed every 10,000 to 15,000 miles, or once per year.
Better at Higher Temperatures – When subjected to engine heat, synthetic oil doesn't become as viscous as conventional oil. This contributes to the longer service interval of synthetic oil.
Better for Performance – Because synthetic oil can stay cleaner for longer, it's often recommended for vehicles built for racing, like the Maserati GranTurismo. It can be especially important for racing on the track near Hollywood.
How Much Does a Maserati Synthetic Oil Change Cost?
The price of a Maserati synthetic oil change here at Rusnak Maserati of Pasadena may vary depending on your model and whether your car is due for other important maintenance tasks. We offer a rotating selection of service specials to help save on the cost of oil service and more. To speak with a certified technician about the most up-to-date pricing for your specific model, we welcome you to contact our service center online or call us directly at 866-761-5007.
Schedule Maserati Synthetic Oil Service at Rusnak Maserati of Pasadena
Is your luxury Maserati vehicle due for a synthetic oil change? Schedule an appointment at our Pasadena service center today! For more information on Maserati service or for further advice on "how often do you change synthetic oil?" please contact us or consult our online Maserati service info center. There, you will find details on the Maserati Extended Warranty, how to check your coolant level, about Maserati accessories, and much more!
More from Rusnak Maserati of Pasadena
The 2023 Maserati Quattroporte price starts at $108,000. According to critics and professional car reviews, this new Maserati offers quite a powerful punch for the price tag. Not to mention, it showcases the lavishness and style of Italian luxury that's been embedded in this brand for more than a century. We've collected a few…

With a starting price of $89,095 MSRP, the 2023 Maserati Levante GT offers head-turning performance and luxurious interior amenities to help elevate your Los Angeles commute. Whether you want a reliable commuter or a luxury vehicle for weekend getaways, the Levante GT is an excellent choice. Learn more about the new Maserati Levante GT for…

The Maserati Ghibli GT starts at $85,300 MSRP and features incredible engine performance and standard features to make your Pasadena drives more enjoyable. And if you want to take your Los Angeles drives to the next level, a new Maserati Ghibli GT for sale at our Pasadena Maserati dealership could be the right choice. Our…